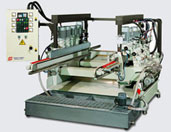 The present organization of SCHIATTI ANGELO dates back to 1969 but its work as machinery manufacturer for glass processing started several years before, in its headquarters workshop. Since 1980, the headquarters of the company, including the administrative and technical departments, have been located in Italy.
In this centre, a highly skilled staff, supported by professional technicians, assembles and tests a whole range of glass working machines. Schiatti produces machines which are able to meet the requirements of all glass manufacturers, from the small shops to the big companies. The quality of Schiatti's machines is the result of a careful selection of materials and suppliers. Efficient maintenance and spare parts service allow the company to solve any technical problem in a very short time: 24-hours a day, seven days a week.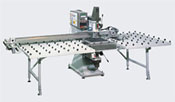 Production includes: Drilling Machines With Opposite Drilling Heads, Multi-Head Drills, Rectilinear Glass Grinder For Pencil Edging, Waterfall Edge and OG-Edge, Double Edging Machines For Pencil Edging And Flat Edging, Rectilinear Beveling Machines, Glass Loaders, Drilling Centres.
Schiatti presently produces the following models:
| | |
| --- | --- |
| | Straight grinding machines for the grinding and polishing of round and flat edges for glass sheets from 3 to 50mm thick with electronically controlled automation devices. |
| | Double edging machines for the simultaneous grinding and polishing of both glass faces. It can process round or flat edges, with electronically controlled automation devices such as setting up and monitoring of the working cycle, for glass sizes from 80 to 3,000mm in length and thicknesses from 2 to 12mm. |
| | Complete grinding lines, composed of 2 machines connected by transfer tables, for the grinding and polishing of all four sides of the glass. |
| | Drilling machines for the drilling of glass in automatic-semiautomatic-manual and semiautomatic-manual version. They are also available with multi-heads for processing 2 or 4 holes simultaneously. |
| | Straight bevelling machines for the grinding and polishing of glass to obtain a bevel from 3 degrees to 45 degrees on thicknesses from 3 to 25mm. |
| | Glass Loaders |
| | Drilling Centres |
Schiatti machines are mostly built for the foreign market where qualified agents offer sale and after sale assistance. For detailed description of our production range with pertaining technical information, please click here.