ADI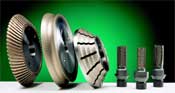 ADI ( ) was founded in 1980, and now, with more than 100 employees, it is a world-wide leader in the diamond tool manufacturing field for glass, ceramic, stone, mechanics and optical industries.

ADI's main features are: flexibility, indepth knowledge of the industrial diamond application and an excellent capability in research and product development. It is also important to point out that ADI has a long experience in working side by side with the machine manufacturers.
Finally, ADI has a commercial network which employs experienced technicians capable of solving and guiding customers to maximise quality and production yield.